Who are the Friends of Holy Cross?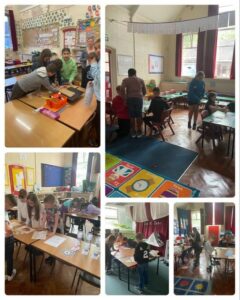 Any friends of the school  with Lisa Cairns as Chair, Kate Sharman  as Vice Chair and Secretary and Abby Chambers as Treasurer.  Behind the scenes there is an army of helpers who even if they can't make meetings give their support at events.
What do the Friends of Holy Cross do?
Raise funds for the school
How do we do it?
Summer Fair
Christmas Fair
Events such as  Movie Nights, Bingo and Chips, Orienteering, Craft nights, selling Mothers' /Fathers' day gifts, selling pancakes after school, selling refreshments at Sports Day and the list can go on. However, we are always looking for new ideas!
What do we raise the money for?
First Holy Communion breakfast and gifts for all the children
Year 6 leavers' party
Christmas selection boxes and crackers
Christmas Tree
Funds towards trips, e.g. coach for the Year 5/6 residential, visits to the Loughborough Pantomime or organise for one to be watched in school, each class is given £500 to help reduce costs for parents for visits to enhance the curriculum.
Refreshments for Carols by Candlelight
The Friends of Holy Cross funds have also paid for many other things over the years – all things that add to the wider curriculum at Holy Cross.
We now have our very own facebook page so please do give us a like. Search FOHC – Friends of Holy Cross. We aim to advertise all our events and upcoming meetings on the page so please look out for us.
We always need more people to join the FOHC.  As our children leave the school, so as members do we, and it would be a great shame if we couldn't continue the great work that we do. We are all volunteers and fully understand that life is busy, and time is precious, but the more people we have on board, the less there is for people to do as jobs can be shared and we can all enjoy the events as well as helping out at them. Having new people brings new ideas and even if you can only help out at one of the events – you don't realise how much that would be appreciated.
Please do get in touch at friendsofholycrossschool@gmail.com if you have any questions or would like to help in any way.