This is our school Chaplaincy board which has been decorated by the chaplaincy team. We have put prayers up with our school mission statement –
'In the LIGHT of JESUS we LOVE LISTEN and GROW'
We use the statement because we should LOVE and we LISTEN when we LEARN, we GROW by LISTENING and we also LEARN what love means.
Our Chaplaincy team are always active in school and regularly lead our children in their class liturgies.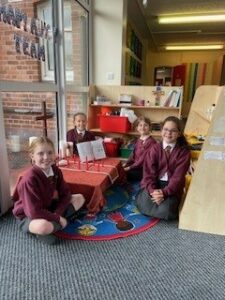 They have worked with our Chaplain to create this prayer space. They have chosen a red focus in preparation for remembrance.